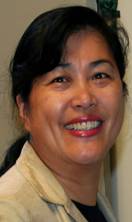 Serials and Electronic Resources Librarian
Periodicals Coordinator
Assistant Professor
Clarion University of Penn
840 Wood Street
Clarion, PA 16214
schen@clarion.edu
Ms. Chen is a 1983 graduate of Fu Jen University and took her library degree from Emporia State University in Kansas, USA. She has worked as a cataloguer and electronic resources and serials librarian at several colleges in the United States. She has done presentations in her areas of expertise at conferences of the American Library Association, Arizona Library Association and at Georgia Tech's Electronic Resources and Libraries. She frequently gives talks and demonstrations on Chinese culture and language at civic groups, church and schools. She is married to Dr. Richard Blake.